Drift Ghost 4K
Sold out and can no longer be ordered.

The most powerful Drift camera ever made. The award-winning Ghost series continues with the mighty Ghost 4K, ready to capture your world in stunning 4K Ultra-HD 30FPS.
With an innovative, modular design; dual microphones for amplified sound and noise reduction; powerful image stabilization; and an extended battery life, the Ghost 4K is fully equipped for even your most intense adventures.
The Ghost 4K features Drift's signature touches, from the sleek 'bullet' form factor to the rotating lens. The Ghost 4K was designed to move with you wherever your journey takes you. The side panel can be clipped on and off, letting users attach a ​variety of modules to customize the camera, including battery packs, an LCD viewfinder or a 4G unit.​ The easy­to­use interface and design, combined with the most powerful technology on the market, takes users on an unparalleled adventure.
"We wanted to go a step further with our Ghost design to add not only a creative spin but a major advancement to ensure that our Ghost fans are experiencing something truly special. We're putting the power back into the hands of the user and offering them the freedom to film their lives the way that they want to," said Sab Jhooti, CEO, Drift Innovation. "As excited as we are about this new modular design and the advanced technology, we are even more excited to see what our fans create."
New key features to the Ghost 4K include:
● HD video available up to 4K UHD @ 30 FPS, 2.7K @ 60 FPS, 1080P @ 120 FPS
● Electronic Image Stabilization
● Gyroscope to automatically predict and stabilize movements smoothly
● Dual front/rear microphones for amplified sound and wind noise reduction. When the camera is in motion, the front microphone will disengage, activating the rear microphone to help reduce wind noise
● Improved WiFi and bluetooth connections for live streaming and more
● 'Stitch' Mode where any new clips shot after setting a time interval will automatically be 'stitched together' for on­the­fly edits
● 'Instant On' Mode for standby one­touch recording
● High Dynamic Range (HDR) photos
● Modular side dock for premium accessories and extended power systems
● Color dot matrix LCD screen, now on the rear of the camera, eliminating the rear hatch (moved to the bottom of the camera)
● 10 PIN Mini USB and microSD slot for up to 64GB
By popular demand, returning features include:
● Photos and photoburst up to 12 MP resolution
● Timelapse photos and videos up to 12 MP and multiple intervals from 1 second up to 1 hour
● Wireless remote and various mounts
● Fully rotatable lens ­ Keep your camera on its mount and twist the lens the way you want to capture the best shot at any angle
● Multiple modes including Car DVR (for a handy dashcam) and Cinematic mode
● Video Tagging to easily capture only the moments that you want without sacrificing storage
● Pair the camera with the free Drift Life app on ​iOS​ and ​Android​ for further controls
Video Resolution / Frame Rate
4K (4096 X 2160 17:1) @ 24, 25 FPS
4K UHD (3840 X 2160, 16:9) @ 24, 25, 30 FPS
2.7K (2704 X 1520 16:9) @ 24, 25, 30, 60 FPS
1080P (1920 X 1080 16:9) @ 24, 25, 30, 50, 60, 100, 120 FPS
720P (1280 X 720 16:9)@ 25, 30, 48, 50, 60, 100, 120, 200, 240 FPS
WVGA (848 X 480 16:9) @ 25, 30, 100, 120, 200, 240 FPS
Timelapse Resolution / Interval
1S, 2S, 3S, 5S, 10S, 30S, 1MIN, 2MIN, 5MIN, 10MIN, 30MIN, 1H
Photoburst Resolution / Capture Rate
SONY IMX117/IMX377 (1/2.3")
140° Optical FOV, CURVED LENS (F/NO 2.4, Focal Length 3.8mm)
4Gb Nand flash + 8Gb DDR3L
64GB+ ExFAT Micro SD Storage
2.4 G / 5G AP6330 (or AP6234)
Internal 1500mAh, External 500/800mAh (total 2000mAh - 2300mAh)
Dual Front/Rear Microphones
via USB adaptor / BT 4.0 LE (wireless & wired)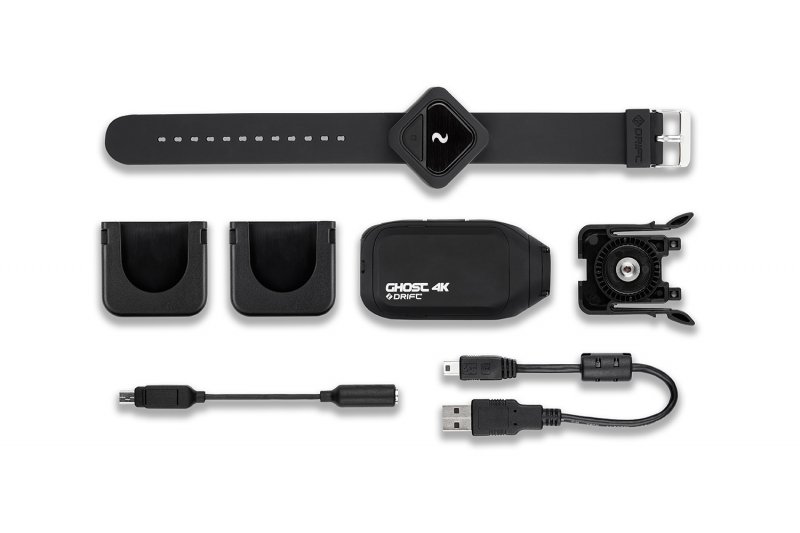 - Mini-USB charge- & datatransfercable
Related products